Testimonials
Hi Noel
We are absolutely delighted with the Ensuite bathroom, its fantastic!
We've been telling all of our friends about it. laugh
Thanks for organising the skip collection too.
And, Of course, you can use our comments on your website.

Thanks again.
Regards
Michelle & Steven
By Michelle Masterson, Woodstown Village, Knockloyn
Hi Noel,
Just a quick note to say thank you very much for the two bathrooms.
It makes a huge difference to our home.
Thanks again mate !

Kind regards,
Niall Keogh
By Niall Keogh, Knockloyn, Dublin
Noel,
You and the guys did an outstanding job on the bathroom.
I couldn't be happier about it.
Carlsberg don't do bathrooms, but if they did, they'd be like yours. yes

Paul and Trish Stuart
By Trish Stuart, Drumcondra
Hi Noel,
First off, thanks for the brilliant job you did on our bathroom.
We love having the separate shower enclosure and Emma was
ridiculously excited to have her first try of the new bath !
Your website has already been passed on to a few of my parents friends
who were impressed with the video my dad took, of the bathroom you did for us.
Thanks again,
Sandra
By Sandra Walsh, Portmarnock
Dear Noely,
Thank you so much for the wonderful job you did on our bathroom.
We are delighted with your top class workmanship and the excellent fixtures and fittings you sourced for us.
I found Homeworks professionalism, good advice and flexibilty very reassuring.
There was total transparency where your pricing structure was fully broken down and itemised.
Any unforseen problems encountered in our old bathroom were easily overcome.
I'm so happy my friend recommended you.
I now love going into my new bathroom.

Happy 2014 Noely

Claire & Willie Crowley
By Claire & Willie Crowley, Newbridge, Co. Kildare
Noely,
Thank you so much for the superb job you did.
We would highly recommend you to anyone and are thrilled with our new bathroom.
The Victorian style floor is beautiful and for the first time since we
bought the house, there are no draughts !

(On this Job, I fitted insulated plasterboard on the external walls , before tiling.
And, sealed all the joints on the existing latted ceiling, before painting it).

Your attention to detail, patience (on that mosaic floor!), and professionalism,
combined with value for money are second to none.
So glad we chose to go with you.

Wishing you and your family a lovely Christmas

The Scanlans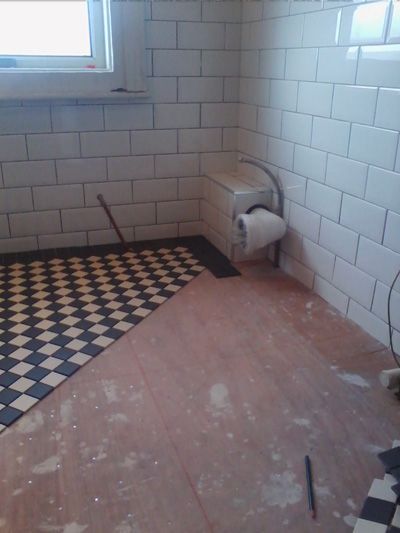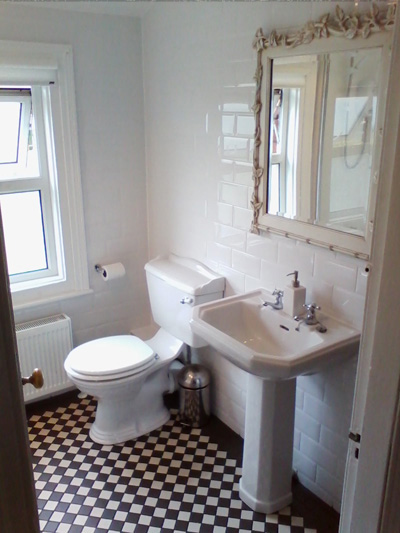 By Elaine Scanlan, Drumcondra
Dear Noel,
We have be meaning to get in touch with you, to thank you for the excellent job you did with our en-suite and main bathroom revamp.
The work was carried out to an exacting and very high standard. The workmanship was second to none and we appreciated the advice and suggestions you provided, based your experience. Your communication was first class, it was really reassuring to have a detailed and transparent quotation for the work.
We have almost completed the revamp of our home and there is no doubt that the bathrooms make it.
Best wishes for Christmas and New Year.
Aidan and Sarah
By Aidan Mc Alinden, Loughlinstown
Hi Noely,
Thank you so much for the excellent work, can't stop telling my friends about it : )
Thank you again.
Regards
Na Li
By Li Na Xiaoya, Ballinteer
Hi,
Just want to say thank you so much Noely for a fantastic job.
Our bathroom looks amazing !
Such a difference from what it used to be.
Right from when you came round the first time,
to when the job was finished, you were a true professional.
You answered all of our questions, gave sound advice and your
workmanship is the best I have ever seen.
Regards
Dave and Eadaoin
By Dave Beattie, Beaumount
Just had a new bathroom fit out by Homeworks, fantastic job, great crew
and Noely's attention to detail second to none.
Would recommend Homeworks without hesitation.
Pauline
By Pauline Bailey, Templeogue
Hi Noel,
Just a quick note to say thank you so much for all your hard work
and help with my two new bathrooms.
They both look gorgeous!
I still can't believe that they are mine, I feel like I'm in some fancy 5 star hotel
instead of my house, when I'm using them.
Thanks for sorting out that missing tile in the downstairs bathroom too.
I hope all of the workmen that I get to do jobs for me, in my house,
are as helpful as you guys.
I wish Ross all the best with his training, I know he'll do well with your help.
I'm already working on getting you some other Bathroom jobs, for my friends !
Thanks again for all your help.
Emer. :)
By Emer Lennon, Lucan
"OMG Noel it's FAB, we love it
Thanks a mill, we're delighted with the job and for all the little extras you did...
Have a lovely Easter and enjoy your well deserved break."
regards
Sarah
By Sarah & Oisin o' Farrell, Sandyford
Hi Noel,
Just a quick comment about the job you did at our house recently.
From start to finish we couldn't have wished for a more professional job.
The quote was thorough and to a Euro it was exact. It's great to know that the price quoted didn't change and it gave us a huge amount of reassurance.
The suggestions that you made suited our needs exactly, and, we knew we could trust your judgement.
Judging by the finish to the work, it's clear you're a true perfectionist.
The work done and the final finish to the bathrooms was beyond what we could have hoped for.
Now we're looking for excuses to get you back again...
You don't build garden walls do you ?!

Thanks again Noel, the work was brilliant and we're so pleased with it.
Have a great Christmas and a happy (and busy !) new year !

Kind Regards
Matthew & Marie
(Main Bathroom and DSWC Re-Vamp, Ensuite additions, Kitchen/Dining Room Tiled)
By Matthew & Marie Tinney, Charlestown, Finglas
Dear Noely,

I had been meaning to thank you for the wonderful job and complete re-build
you have done to our en-suite.

It is nice to praise those who truly do a good job and also to say just "Thanks".
You did a fantastic job Noely.
Both you and your crew, were so professional and helpful.
Brid and myself felt we should write and tell you this, as companies like yours should
be given the credit it deserves, for delivering a first class service, from start to finish.

It was obvious to us from a previous recommendation given to us by a neighbour
that to choose you for our en-suite complete revamp was the right choice.
Noely, the finish and the look of our new shower including the new sink unit
and toilet, looks like what came out of one of those "homes to improve" magazines.
We are so happy with the shower and the seat which you put on the wall, inside the shower.
We now feel we have that space and the comfort, to enjoy our new en-suite.
.. Bye the way, many people have commented on the tiles and the mirror, and they are all fascinated with the border you made round the glass. We truly are delighted with the job you have done and would be very happy to recommend you to any of our friends or neighbours.

The Only downside, is that all of the family want to use our en-suite now. !!
Thanks a million Noely, it was a pleasure having you and we wish you and your family
a very happy and peacful Christmas.

Edward Downey
Leixlip,
County Kildare
(Ensuite Re-Vamp with walk in shower)
By Ned & Brid Downey, Leixlip
When we decided to renovate our bathroom, we decided to gut it entirely,
and do a full revamp. This would involve removing the old suite and the dry lining on the external walls, to allow for an increased level of insulation.
Following a lot of research, we designed a new layout and selected the fittings and tiles we required to give us a high quality of finish, to our new bathroom.
Knowing exactly what we wanted and following a recommendation from plumbing suppliers Barretts Maynooth Ltd.
we contacted, among others, Mr. Noel Sweeney of Homeworks.
It was clear from the start, that Mr. Sweeney was by far, the most professional
of those contacted, and, while not the cheapest, we agreed on a fixed price, on the clear understanding that we would get exactly what we required, and, that the finish would be to the highest quality.
Noel and his crew arrived on the agreed date and completed the work within the agreed time scale.
There was very little disruption to the household and everything was tidied away each evening, before they left. The work was completed to the expected highest standard and we are very happy with our new bathroom and would have no hesitation in recommending Homeworks for any similar type of project.
John & Brenda, Celbridge.
(Main Bathroom Re-Vamp)
By John Mc Carthy, Celbridge
Hi Noel, Just had another walk around my new Bathroom,
Have to say, your work is excellent ..... :)
Again , thanks very much
Regards
Diarmaid.
(Main Bathroom Re-Vamp)
By Diarmaid Shinnors, Leixlip
The main reason we choose Homework's to revamp our bathroom was the very professional way that they assessed the job in the first place. Noel came out measured up, asked us what we had in mind and went to great lengths to advise us on what he actually felt might suit our needs better. Also what we liked was his attention to detail, we had two other assessments and quotations done before Noel came out ,but straight away, we noticed that he was looking beyond just replacing a bath and tiling.
He advised us that we should look at re-doing the ceiling and lighting as it would stand out a mile, when a new bathroom is complete. He also advised us on the right type of shower to have etc. when the quotation came back, it seemed at first, that it was not the cheapest in comparison to the others, but, also what we liked was the fact that he itemised the job spec and the cost for individual items. When we actually took in to account the little extras jobs that he was pointing out, that would need to be done, it actually seemed like good value for money.
The other great thing that he does, is he sources all the products for you, which also makes a saving, as if we had to purchase them ourselves we would have paid retail prices at the higher VAT rate, plus the hassle of it all, trying to pick the right tile and matching floor tile, where to get a sink etc....
Noel did it all for us.
Noel and his team carried out a fantastic job, while it being a very messy job to do, they were actually very neat and tidy and there was little disruption throughout the revamp. The end result has made us very happy indeed, to such an effect that we are nearly afraid to use our lovely new bathroom in case we do any damage !!.
We have no hesitation in recommending Homeworks as the end result is worth it.
(Main Bathroom Re-Vamp)

We also had Noel, using a 60x60 Porcelain tile, to begin laying them in the Hallway.
To tile it through, to the DSWC, Utility, for our Kitchen / Dining area too.
Finally, they tiled the Kitchen walls, with our lime green 30x10 tile.
We are very happy with the end result.
By Breffini & Yvonne, Trim
The Bathroom looks brilliant Noel.
Very Happy with it and great attention to detail
Appreciate it, thanks
Padraig
(Main Bathroom Re-Vamp)
By Padraig Ivory, Navan Road, Dublin